Description
Portable JAY-1 5-Liter Small Oxygen Concentrator Continuous Flow With Battery Price in Dhaka Bangladesh
Improve blood circulation function, <45dB sound level, ≤85W power consumption, 0.03-0.07MPA outlet pressure, AC / DC power, power failure alarm, LCD display, intelligent alarm, CE and ISO specification, origin China.
Our Longfian JAY-1 1-5L/min portable oxygen concentrator adopts pressure swing adsorption (PSA) physical technology to produce oxygen thus is safe and economical to use. It can be used at home with AC power, used in car with car adapter and used outside with lithium battery.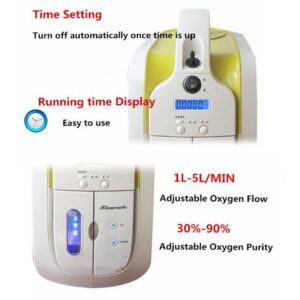 Application
Designed with small and exquisite plastic housing, our portable oxygen producing machine can be used while you are out. No matter for young men on business or older people on travel, our oxygen generating machine is an ideal choice. Due to its small size and oxygen concentration which is as high as 90% for 1L oxygen flow, this portable oxygen concentrating machine is also suitable for making cocktail.
Features
1. Free oxygen inhalation time setting: The user can adjust oxygen inhalation time according to practical need.
2. Flexible choice of oxygen concentration: Oxygen concentration can be adjusted in the range of 30%-90%.
3. Free choice of oxygen flow: The oxygen flow of our portable oxygen concentrator can be easily switched from 1L/min to 5L/min through the knob.
4. Transportable and available for being mounted on vehicle: Our oxygen generation plant can work wherever there is air and electricity such as in an automobile.
5. Excellent quality: Since our company is a professional oxygen generator manufacturer, the products we offer are safer and more reliable in quality.
6. Ultralow noise: Thanks to the low-noise design, our product can run stably and only makes noises lower than 40dB while working.
7. Large-area ventilation panel: Our portable oxygen concentrator adopts front-mounted ventilation design which facilitates oxygen concentrating and extending the service life of motor.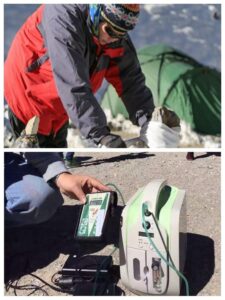 Hot Tags: small portable oxygen concentrator continuous flow with battery, suppliers, factory, wholesale, price list, buy, made in China, Pulse POC Outdoor Use Battery Portable Oxygen Concentrator, FDA Approval Mobile Oxygen Concentrator With Oxygen Sensor, Aquaculture Oxygen Concentrator For Fishing Farming, Hot Sale JAY 5AW Veterinary Oxygen Concentrator, Breathing Apparatus Machine For Hospital Use, Ultrasonic Oxygen Sensor JAY 110 for Monitoring Oxygen Purity 20 99